"I had planning to put a mast on my boat for some time, for both utility (raise the radar and VHF antennas) and aesthetics (they look cool). I had researched many products, and kept coming back to Seaview. My boat already had a small Seaview radar stand on it. I first thought I would need a custom product, but Seaview customer service (Jason) worked with me to get me the best product available within my budget. They also made some custom pieces for me which were very economical. The fit and finish of the product is top of the line, and the customer service was too!"
- Pete
---
"What a pleasure it's been working with Jason, Miles and the team at Seaview on the mast for my new Intrepid. After much internet and boat show searching, I could not find a mast that I thought was a good fit for my new 40' Intrepid. Jason and Miles worked with both Intrepid and myself to design and construct a super high quality custom mast that exceeded all expectations. The mast looks great, folds to allow clearance below nearby bridges and is home to a Myriad of electronics that in the past, would have been spread around the hardtop. And....the price was well below what I had expected a custom mast to cost."
Many thanks, Nick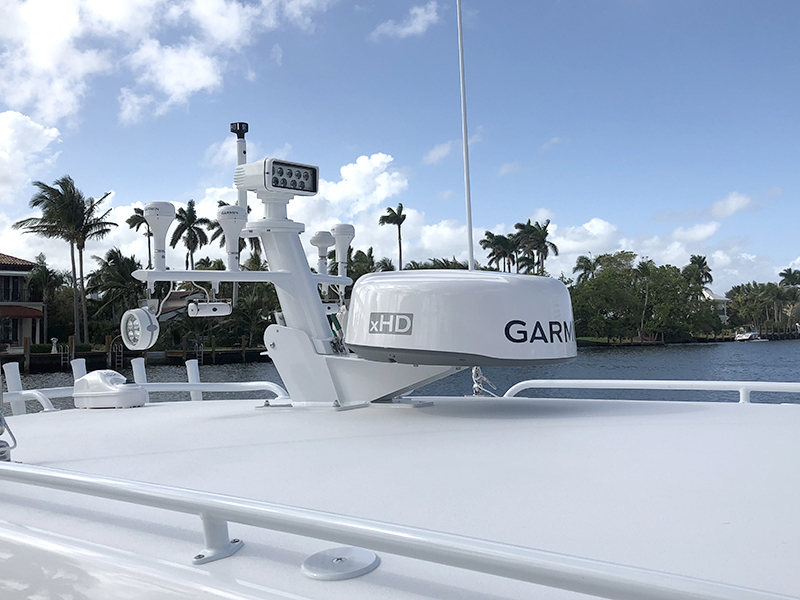 ---
"I would like to thank you and PYI for your help this summer. I had the crab vessel with the 25 + year old PYI dripless that was no longer manufactured. While having the shaft aligned I felt it was prudent to change the dripless even though it was working flawlessly due to its age and heavy use. With a very short window PYI came through on time and manufactured a one off dripless. Thank you for getting the Polar Sea out on time. "
- Glenn Mikkelsen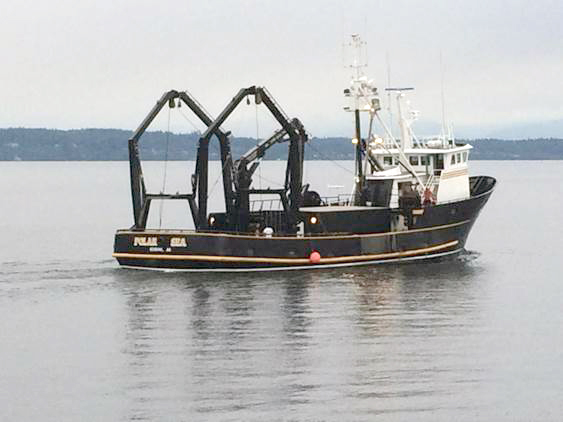 ---
"I got the light mast wedge you sent me on Monday as you predicted. I installed it on Tuesday and all is, once again, well in my boating world. I thank you (again ) for your dedication to excellent customer service. I have always talked up you and your company and its products and will continue to do so. I enjoy relating to my yacht club buddies this kind of boating experience. Thanks again, I hope to see you at the next boat show to shake your hand..."
- Tony Cancemi
---
"Thank you so much. Just completed install. Splash as soon as the yard can reschedule me. I can't say enough good things about the prompt response and your courteous service. Thanks again!"
- Darick
---
"I am writing to share with you both my experience in dealing with PYI Seaview in trying to find a solution for a custom mast for a yacht I am purchasing.
I have never before written the Owner or Management of a company to commend an employee. However, I would be remiss if I did not do so in this case. As evident in the below series of e-mails, Mr. Abrahamsen has displayed tremendous patience and professionalism in his interactions. I profoundly appreciate his assistance. As a result of his dynamic and exceptional customer service I hold PYI Seaview in the highest regard and will certainly recommend this company to anyone seeking such a product solution. I hope you appreciate the asset he is to your company."
Respectfully,
- Mike
---
"Just got a chance to open your package this morning and I can't tell you how pleased I am. The first thing that caught my eye was how well the contents were packed. Everything was protected and it looked like the box was custom made for my order. Then the excitement of opening the individual components. Again each box was nicely wrapped and the contents well protected. And finally, the inspection of each piece. The quality of your product is evident with the first look. The instruction were simple and all the necessary hardware was supplied.
All in all, dealing with you and your fine company was a first class experience. I am so grateful for running into PYI at the boat show. You now have a customer for life and I will be proud to show off my new mount. Will tell everyone who asks where I got such a fine solution for my Sat and Radar concerns.
Again, thank you for a wonderful experience."
- Bill
---
"I wanted to take a moment to let you know how Max Prop has effected Free Spirit's performance. You may recall, Free Spirit is a 30 year old 48' Nicol design, ketch rigged, (cold molded), trimaran, at 11 tons of displacement. We sail her over 5000 miles annually in Hawaiian waters, cruising to most of the islands every year for the past 17 years. Over the past 5 years, in our quest to enhance performance we have modified her keel, rudder, and sail plan (which is currently 930 sq. ft.). Everything has helped. With these modifications her speed increased, she now tacks like a monohull, and she's pointing to 55 degrees, (at times). However, none of this prepared us for what the Max Prop has done. Down wind in 25 knots, 6-8 ft. seas, we have cut our 11 hour trek from Honolua Bay on the north east shore of Maui to our slip in the Ala Wai from 11 hours to 9hrs and 15 minutes. Coming home from Kona on the Big Island in December, (our first cruise after installing the prop), we were close hauled under full sail in 30 knot winds and 8 to 10 foot seas crossing the Alenuihaha Cannel averaging 10 to 12 knots, the crew screaming with excitement. I never would have expected such a change. Best we can determine, we've increased performance to weather about 5 degrees and speed by nearly 20%. Plus, no more prop walk in reverse. Get a little way on and she backs wherever you point her. These results probably don't surprise you, but just in case you haven't heard from a tri-cruiser in the past, the best way to describe the change is to imagine that for 29 years Free Spirit has been dragging a 55 gallon drum and suddenly we reached down and severed the tow. I highly recommend Max Prop to anyone, but most especially to every trimaran."
Thanks for the boost. Aloha!
- Captain Gordie Morris
---
"If anyone ever is dubious about the strength of the Max Prop mechanism, you might want to show them this letter. A few weeks ago a Little Harbor 54 was coming into Philadelphia from New Zealand as deck cargo on a container ship. She was supposed to have been offloaded into the water and then come to our yard to be rigged. As they were lifting the yacht off the ship a sling broke, dropping her ten feet or so onto the concrete. The 31 ton yacht fell stern first, destroying the rudder, causing extensive hull damage and breaking one blade of the three-blade Max Prop. Believe it or not, the Max Prop mechanism still works perfectly! The yacht is several years old and has been cruised ten of thousands of miles, but the Max prop works as smoothly as if it had just been installed. And that is after taking an impact sufficient to snap one blade like a potato chip. That is one hell of a piece of machinery!"
Sincerely,
- Peter Vanadia, Philadelphia Marine Services
---
Kenny,
"Thanks for following up on this. You and Jason have been great to work with. Together you have provided the best customer service I have had in years. I can't say enough about my experience with your company."
Thanks for everything,
- Evan
---
"The Max Prop still works perfectly, one of the best pieces of kit on the boat!"
Fair tropical winds,
- Ryan Levinson
---
"My new custom radar mast from PYI turned out to be one of the most satisfying transactions I have been involved in during the restoration of our 1985 Tollycraft 37 Sedan. The customer service, technical expertise, quality and delivery were outstanding in every way, and my new mast is one of the most impressive upgrades to our boat so far. We have gotten a number of very positive comments from fellow Club members, and it is easy to recommend PYI products to my fellow boaters.
The most outstanding feature of our new mast is that it is tapered evenly all the way from the base to the top, and I have never seen another mast exactly like it. Most similar boats have a mast that was cobbled together from pieces of sailboat mast, none of which is ordinarily tapered. Also the design of the hinge mechanism, spreader bars and antenna mounts is absolutely first rate. The metal work and welding are not only very robust, but the finish work is outstanding. Topping off my beautiful new mast is a perfectly color matched powder coat paint job that is nearly flawless. This is the most elegant looking mast I have ever seen on a powerboat.
My mast arrived in a timely fashion from the initial design concept to final delivery, and the packaging was designed in such a way that the finished product arrived at my boat in perfect condition. The mounting plate and connection to my existing bridge railing were executed perfectly. Installation was easy and all the necessary hardware was included in my package.
My special thanks go to Jason Abrahamsen whose design work is outstanding. Jason even made two special trips to visit my boat in the Edmonds Marina to make sure that the final dimensions were perfect."
Best regards,
- Jim Maddox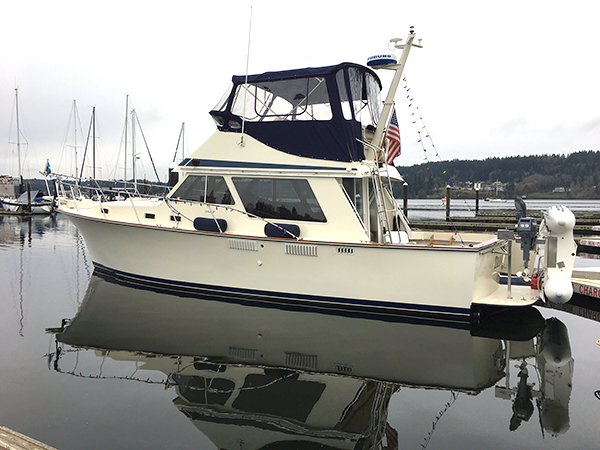 Seaview custom mast on a 1985 Trollycraft 37 Sedan
---
"I am more than pleased with the results. All of the mounts look fantastic in both fit and finish. The custom SAT mount with the factory flag pole receives a lot of attention.
By using the wedge on the FLIR Camera mount we were able to level all of the mounting surfaces, you would never know this was not a factory installed package. Thank you so much for your engineering ideas and patience with me, I tend to look for the best possible result. You delivered!"
- Regards,
John Worthing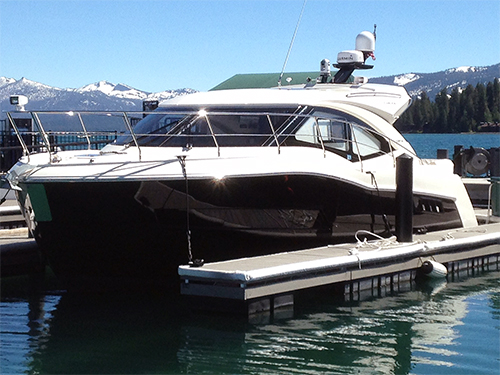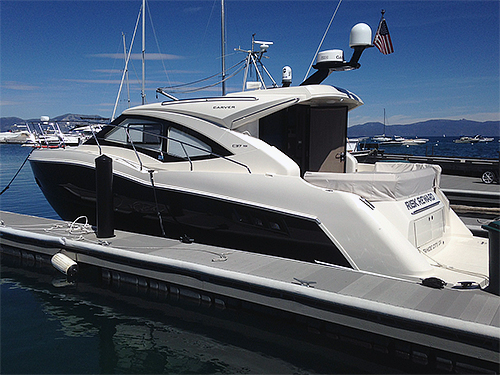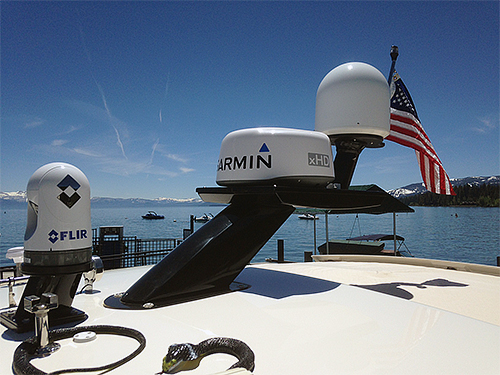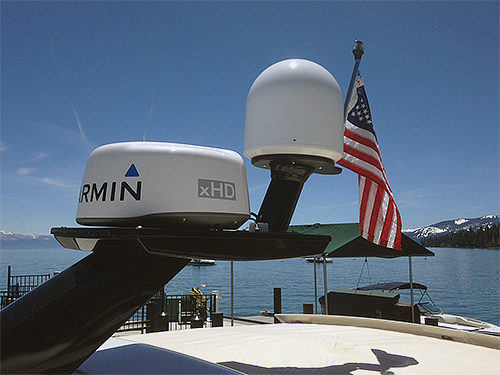 ---
"We recently performed a upgrade on the steering system of our 65' staysail schooner SV Sassafrass. The original steering system and rudder proved to be undersized for the vessel. We worked with the Naval Architect we have been using on the refit Tad Roberts for a new rudder design and contacted our local marine service representative Jim Mcorrison at Starfish Marine On Orcas Island Wa for the steering system. After looking at our project Jim consulted with PYI and a Jefa geared helm was proposed. I was initially hesitant with this approach as our existing steering was mechanical and had little or no feedback to the helm. PYI was confidant the Jefa helm would provide the desired feed back and Jim advocated the system, one of the benefits being the integration of a Jefa DC auto pilot motor into the steering gearbox for a very robust and simple autopilot system with low power consumption."
"Since installing this system we could not be more pleased. The helm has excellent feedback under sail and the autopilot drive is extremely efficient. The light air sailing abilities of our vessel have been greatly increased and the new helm has made operation of the vessel a ease for myself my wife and our young daughter. I am very pleased with the system."
- Timothy J Scott, SV Sassafrass