With one month of the new year already behind us, many of you are probably counting down the days until you can get your boats back out on the water.
Those of us on the west coast have a bit of an advantage since our boats can come out in various stages throughout the year. But for those of you on the east coast, it's a little trickier with the weather … making Memorial Day weekend a popular time to officially launch (literally) the new boating season.
No matter where you are or what type of craft you have, there's no time like the present to start getting your boat ready. The PYI team has identified the first three things we'd recommend you tackle, based on the lead time you or your boatyard will need to install two of them – and the high degree of personalization on the third.
Let's face it – COVID has put a damper on what many of us would typically be doing this month: going to the Miami International Boat Show or many other shows. With the Miami International Boat Show and many others postponed until future dates, we don't have the luxury of showing you our new, cutting-edge products in person. So we're going to have to tell you about them.

Let's start with our Max-Prop automatic feathering propellers.

Max-Prop has led the low drag propeller market for more than 40 years and for good reason: they're efficient, reliable, versatile and one of the best-machined products in the industry. At PYI, we offer a variety of Max-Prop models – and through proper sizing and calculations, we can help you customize the right size and taper to fit your boat.
After all, a 25' boat isn't the same as an 80' boat … and we'll compile all the information we need (type of vessel, running gear, motor, engine, reduction gear, transmission, taper dimensions, etc.) to build an individualized propeller that best suits your needs.
If you place your order this month, it'll give us the time we need to build it … and then we'll set it aside until you or your boatyard is ready to receive it. Because of a boatyard's endless list of vessel work prior to launching, you can see why it's important to start the clock now.
Next up? A Sonihull ultrasonic antifouling system.

Keeping algae, barnacles, and mussel larvae from embedding onto your boat's hull, power train and steering gear isn't just a cosmetic issue – it's a functional, operational one. If allowed to grow unchecked, those contaminants will reduce speed due to extra drag while increasing your fuel consumption, taxing your antifouling paint, and create extra haul-out costs. You'll be frustrated both by your boat's lack of performance as well as the hit to your wallet.
Developed by NRG Marine, Sonhull incorporates the latest digital electronics and ultrasonic transducer technology to produce multiple, targeted bursts of ultrasonic energy that, through a series of steps, ultimately result in micro jet action that cleans your hull's surface below the water. Sonihull works on GRP, composite, aluminum, steel, or carbon hull material – just not on wood.
Why act now? Same reason as with the Max-Prop propellers: you want to give you or your boatyard enough time to complete the installation. Because they go in the bilge area of the vessel, there's often a challenge in feeding and connecting the wires to get it into place. Not only that, but you or your boatyard will need to glue the transducers into predetermined areas of the boat, plus mount the control unit. The installation takes time and planning so you'll want to make sure you get started early.
Last, but certainly not least: Fendertex® fenders.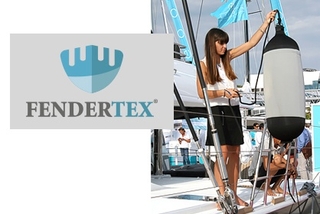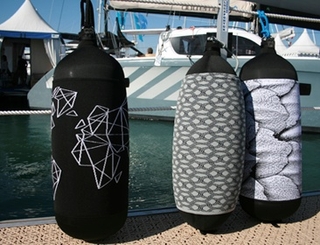 Imagine a standard fender that's close to three feet tall and 15 inches in diameter. Now picture five of these on a 40' boat – where do you keep them when locker and storage space is limited? Take that one step further with a 100' boat that might need 10 fenders that are six feet tall and 2 ½ feet in diameter. You'd be hard-pressed to fit them all into a traditional office!
Contrast that with Fendertex inflatable textile fenders that, when deflated, are about the size of a loaf of French bread. Available in cylindrical, spherical, and tandem styles, they're odor-free … ultralightweight (easy for anyone on your crew to handle) … and literally take minutes to inflate or deflate.
But here's where we can really have some fun: in the personalization. The fenders themselves are available in a wide range of color options, as are the covered D-rings and whips. Want to create a knitted fender cover custom-embroidered with a special design or your boat name? Done. Even the retention and long side straps can be embroidered with the name of your vessel or any identifiable information.
Because we want to ensure your personalization is done right – drawing up a design, putting it into the proper CAD format for the knitting machine, getting your approval, and producing the end product – you'll want to allow about six to seven weeks for the entire process. And the closer you get to that magic late-May launch date, the longer the lead time maybe.
Now you know the three to-do items you'll want to tackle this month to get your boat ready for the 2021 season. And if you have any questions, please don't hesitate to reach out to us. We take great pride in our customer service and attention to detail and will be glad to help you by phone or via a Zoom meeting with one of our product experts.
PYI Celebrating 40 Year Anniversary
This year, PYI Inc. is celebrating 40 years of manufacturing and distributing high-quality marine, boat, yacht, and ship equipment and supplies to boaters worldwide.
PYI made its humble beginnings in the founder's garage and has since expanded to 31 employees and a 10,000 sqft manufacturing facility in both the US and France. Since our inception, PYI has made multiple game-changing innovations, most notably the PSS Mechanical Shaft Seal, the #1 selling marine mechanical seal worldwide.