PYI Inc. is excited to announce that we are now the exclusive North and South American distributors for Fendertex®.
Fendertex® is the leading manufacturer of inflatable textile fenders for the yachting market. The Fendertex® standard line offers cylindrical, spherical, and tandem fenders. Fendertex® also offers a wide range of customizable textile fenders and accessories.
Lightest fender in the world!
Can be deflated and rolled or folded for storage
Built to withstand an immense amount of pressure
Adapts to large temperature fluctuations and holds shape after long periods of compression
Available in three standard shapes and ten standard colors
Customized sizes, colors, and embroidery options available
Available accessories include fender covers, sheathed D-rings, ropes, pumps, and custom embroidery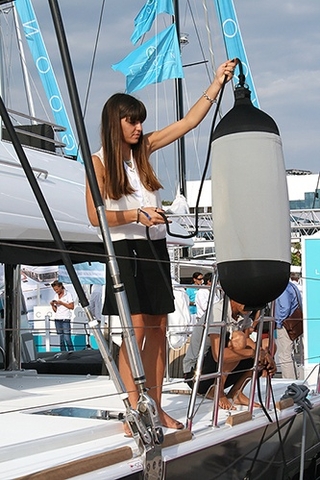 Ultra-Lightweight
Fendertex® Fenders are ultralightweight, making them easier to handle than typical PVC or other inflatable fenders
Up to 95% lighter compared to PVC fenders
Up to 40% lighter than other inflatable fenders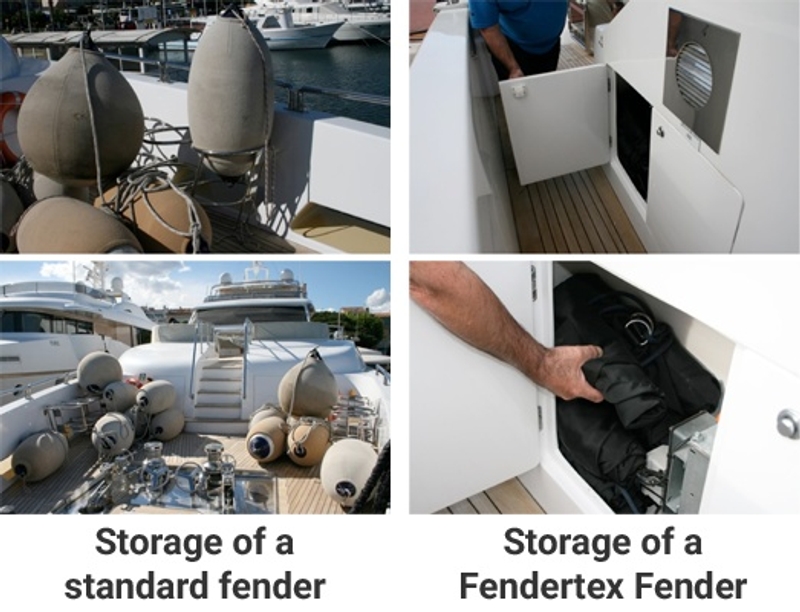 Space Saving
Storage of traditional fenders is often an issue on vessels. Fendertex® Fenders are designed to minimize the use of storage space. Once deflated and rolled or folded, a set of fenders can easily be placed into a locker.
95% smaller when deflated compared to standard PVC fenders
50% smaller when deflated than other inflatable fenders
Quickly inflates and deflates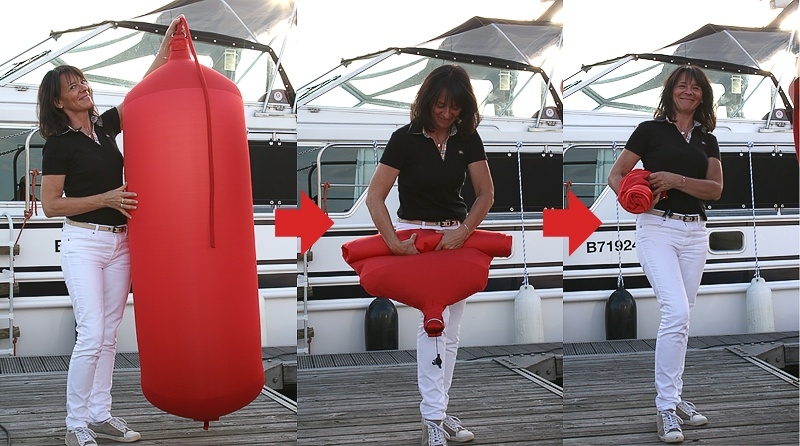 Robust
Compression strength ranges from 4,400 lbs to 44,100 lbs, depending on the fender model
Automatically adapts to temperature swings
Holds shape after extended periods of pressure
Highly resistant to UV color fading, due to the use of solution-dyed textile
Custom Options
Custom Covers
The knitted Fendertex® covers are customizable, any design logo or boat name can be added to the cover.
Custom Embroidery
Cover, retention strap and long side strap can be custom embroidered.
Wide Variety of Colors
The fenders are available in ten standard colors, as are sheathed D-rings, covers, ropes, and stitching.
Click here to begin building your Fendertex fender today!