So you've read our blog, "A More Eco-Friendly Alternative To Traditional Antifouling", where we discuss how the Sonihull system works and will benefit you. Now you want to know which Sonihull system to get for your boat, well after reading this blog we'll hopefully have guided you in the right direction.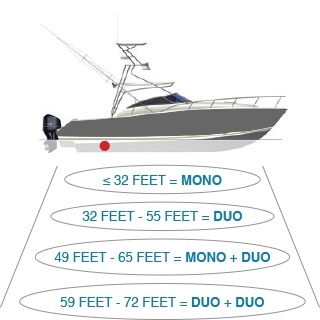 This chart applies to both power and sailboats
The Mono or Duo?
There are two Sonihull systems, the Sonihull Mono and Sonihull Duo. The Mono comes with one transducer and a control box with a single transducer input. While the Duo as you can probably guess comes with two transducers and a control box with dual transducer inputs. The size of your boat determines which system you should get.
If your boat is 32' or less, then a Sonihull Mono will suit you just fine. Now if your boat ranges from 32' to 55' you'll need to get the Sonihull Duo. Anything larger will require multiple systems for optimal coverage. Boats ranging from 49' to 65' will need a Sonihull Mono and Duo system. If your boat is 59' to 72' then you're going to need two Sonihull Duo systems. Now if you have a twin hull vessel you will need to double the recommendations that have been mentioned.
Got A Catamaran?
Catamarans are a different story. If it's up to 40' we recommend installing a Sonihull Duo, with one transducer in each hull. Now if your catamaran ranges from 40' to 65' we suggest using two Sonihull Duo systems, with one system in each pontoon.
For Large and Commercial Vessels
These larger vessels will require multiple Sonihull Duo systems. Each transducer should be calculated to a 9-16 foot radius. Please contact PYI Inc for assistance with setting you up with the optimal configuration.
Where to Put This On My Boat?
Depending on if you have the Sonihull Mono or Duo it'll dictate where you mount the transducers on your hull. But typically you're going to want to mount them along the center line of the hull. If you have a Sonihull Mono you'll want to mount the transducer in the rear 2/3 of the hull. With the Sonihull Duo you'll mount the transducers spacing 1/3 and 2/3 of the hull. Below are illustrations showing you where about you should install the transducers on the inside of the hull.